As always, we keep our clinic squeaky clean – find out all about our ongoing hygiene and sanitization procedures below
The Ministry of Health states "the rate of infection within healthcare settings has been very low, despite being one of the most at-risk environments". This is most likely due to rigorous cleaning, hygiene and health and safety procedures carried out at healthcare Settings.
"Infection prevention control precautions remain the primary mechanism to protect yourself and the people you see." (8)
Keeping It Simple, No Matter The Colour
The following will remain the same for the Traffic Light System Red, Orange and Green.
Interventions we currently have in place to reduce the risk of transmissions as far as reasonably practicable:
Covid screening at the time of booking an appointment and prior to appointment if attendance is more than 24 hours after booking. We will not treat patients with any cold of flu symptoms of any kind.
Potentially high risk clients required to have a negative test prior to attending their appointment.
QR Covid tracer code displayed at multiple locations throughout the clinic.
Windows and door open throughout the premises at all times of operation (and also afterwards for minimum of 1 hour).
Waiting room open to 1 or two patients maximum and ample space for 2m+ social distancing.
Option to wait outside the clinic or in your own car upon arrival until the practitioner is ready for you.
Management of appointment times – Maximum of 2 patients booked back to back, then 15-30 minutes intervals.
Large room sizes with good ventilation.
Compulsory use of masks for 12 years and over patients (except those medically exempt), at all times during attendance of the premises, including throughout consultation / treatment. This includes practitioners.
Sneeze guard in place at reception counter, and reception staff wearing face covering at all times.
Continuous use of hand sanitiser.
Staff trained in health and safety protocols.
Contactless payment only.
Ability for patients to request to be treated via telehealth as an alternative in an in-person appointment.
Mask Wearing Is Essential
(unless you've got an exemption)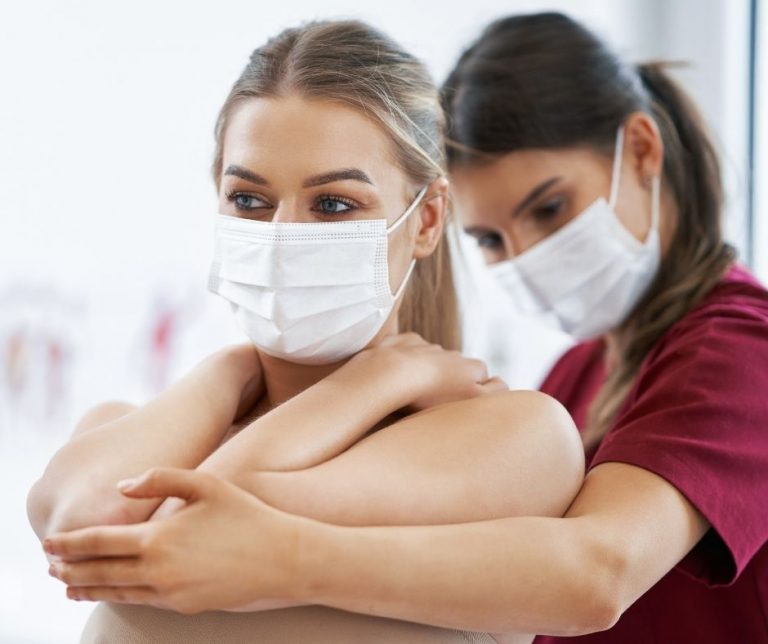 Responsibilities to our Visitors and Staff
As an employer, and a person conducting and undertaking business, we have a responsibilities to our workers and visitors (including patients), such as:
All healthcare workers have a right to be able to be safe in their workplace.
Employers have a responsibility to ensure their staff are able to work in a safe environment.
Actions must be taken to mitigate any risks.
References
MOH position statement 18th November 2021. 18th November – Ministry of health position statement on the management of unvaccinated individuals in healthcare settings
Chief allied health professions office – Martin Chadwick letter 18th November 2021
Osteopathic Council NZ email correspondence 23rd November 2021
Osteopaths NZ email correspondence 23rd November 2021
Covid-19: Mandatory Vaccinations (11th November 2021)
Health and Disability Worker Vaccinations Order: Guidance document for PCBUs and Workers 22nd October 2021 edition.
Worksafe: Howe to decide what work requires a vaccinated employee and WorkSafe's enforcement approach.
Chief allied health professions office – Martin Chadwick letter 1st December 2021.
Got Questions?

Contact us to discuss them – we're very approachable, and we're happy to listen.